The Naperville Jaycees are pleased to announce the 2014 Last Fling Labor Day Parade theme
"A Celebration of Military Service"
We invite everyone to join the Naperville Jaycees

and 2014 Labor Day Parade Grand Marshall, Mayor and
retired Marine,

Cpl. George Pradel, as we honor the military heroes who serve to protect our freedoms
.
Monday September 1st at 10 a.m.
The 2014 Parade Route will be the traditional route, starting at Naperville North, heading south on Mill Street, turning east onto Jefferson Ave., then south on Main Street, then west onto Porter ending at Naperville Central High School. Below is a map of the parade route: (click the image for a larger version)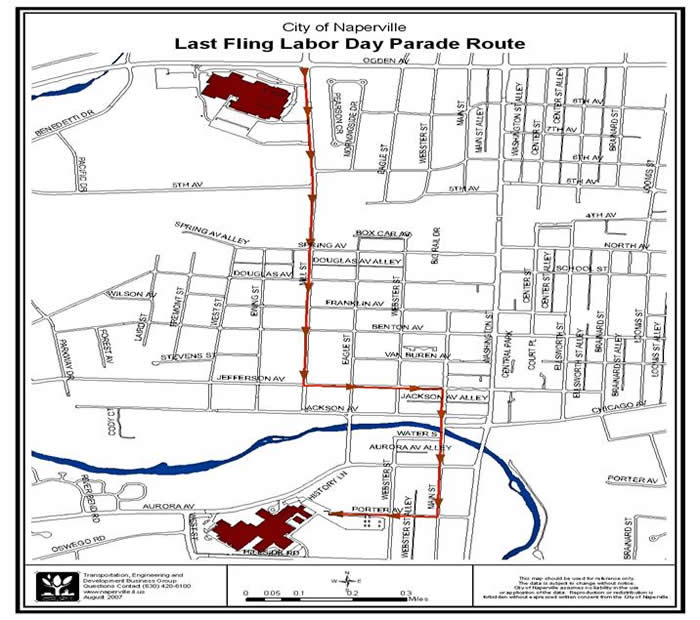 ***2014 Parade Information & Entry Forms ***
2014 Entry for parade applicants is no longer available. Thank you for your interest. If you have additional questions, please contact the Parade Chair at pauldekruiff@comcast.net
Please be sure to go to the parade in person and then enjoy it again on NCTV Channel 17. NCTV17 will have a full production crew out to tape the entire parade. The parade will air on Labor Day at 7 p.m., and 11 p.m. on NCTV 17 through video streaming. Check the schedule each week at NCTV 17 for additional air times.